We will be celebrating Thanksgiving here in the United States next week.  This Turkey Glace recipe was originally published on December 9, 2008.  It really is a great "what do I do with all of these leftovers" recipe.  And it is easy to tweak, too, depending upon the amount of leftovers you have.  Enjoy!
The Ultimate Turkey Leftovers Recipe~Turkey Glace
If I had known how wonderful this recipe was, I would have given it to you the Monday before Thanksgiving. As I was testing it, I realized it is The Ultimate Recipe for what to do with leftover turkey/stuffing/gravy/cranberry sauce. I'll provide the official recipe below, but the "quick and dirty" recipe is as follows:
While clearing the table, get out a shallow baking dish, 13 1/4 x 8 3/4 x 1 3/4 inches. Line the bottom of the baking dish with leftover stuffing, about 1 1/2 inches deep. Cube about 6 cups of turkey. Spread that over the stuffing. Pour and spread leftover gravy on top of that. Cover with aluminum foil and save for the next day (or send home with a guest with cranberry sauce). When ready to serve, bake in a 350* oven for 20 minutes. Spread 2 cans worth of cranberry sauce over the top and bake another 10 minutes. Serves about 12.
Here is the "official recipe:"
Turkey Glace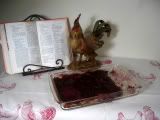 Ladies' Home Journal Cookbook
1960
6 cups cooked turkey cut into about 1 1/2 inch pieces.
6 cups day-old bread cut into 1/2 inch cubes (no crusts)
3/4 cup butter
3 teaspoons salt
1 teaspoon thyme
1 teaspoon poultry seasoning
1 cup finely chopped onion
1/2 cup flour
2 cups turkey or chicken broth or part broth and part turkey gravy
1/4 cup chopped parsley
2 (1 lb) cans whole cranberry sauce
Saute' the bread cubes in a frying pan with 1/4 cup butter. Season with 1 teaspoon salt, 1/2 teaspoon thyme and 1/2 teaspoon poultry seasoning. Spread on the bottom of a shallow baking dish, 13 1/4 x 8 3/4 x 1 3/4 inches. Spread the cooked turkey over the bread cubes. Saute' the chopped onion in 1/2 cup butter; add the flour and the turkey or chicken broth or part broth and part gravy, seasoned with 2 teaspoons salt, 1/2 teaspoon thyme, 1/2 teaspoon poultry seasoning and the copped parsley. Pour this over the turkey and bread cubes. Bake in moderate oven, 350*, for 20 minutes. Then take it from the oven and spread the top with the cranberry sauce. Bake 10 minutes more. Twelve servings.